Scenic Cafe Garden @ Ipoh – Beyond the Traditional 'Kampung' Facade
October 20, 2014 | 7,355 views
Braised Lamb Shank (MYR 36 / USD 12) @ Scenic Cafe Garden served on a bed of mashed potatoes, sides of grilled vegetables and brown sauce
Before we decided to give another new cafe in Ipoh a try, we actually hesitated for a while. I guess this was understandable, given the sudden surge of cafe culture in Ipoh and the generally lacklustre experience with some of them. If you are one jolly cafe-hopper, then you should be able to relate to my claims.
Here's the bucket list: Overpriced 'gourmet' coffee and tea (bags), generic outsourced desserts (cheesecakes priced at close to MYR20 per slice anyone?), lazy pastas, salads and sandwiches selection, and to no one's surprise …. exceptional attention/investment focused on creating an 'idyllic, artsy' ambience targeted at the new generation of foodies – feed the camera/smartphone before the stomach.
So when Dad suddenly hatched this idea of a dinner outing at Scenic Cafe Garden at the junction of Tambun Road and Tiger Lane (interesting names, huh?), supposedly another boutique cafe housed in a refurbished bungalow (which we found out later that it was more than a generic bungalow!), I scrambled for alternatives in my to-eat list.
To cut a long story short, the chilly weather, dark skies and post-Cameron Highlands blues (more on that later) placed me in a half-hibernation mode, thus I went with the flow. At least, I could be rewarded with a potential gem for photography, should the food failed me. But read on to find out the full story on Scenic Cafe Garden; cheesy name yes, yet a spectacular place to entertain guests. 
With heavy influences from rustic nature of traditional 'kampung' houses, delicate attention was poured into setting up the right ambience at Scenic Cafe Garden.
Scenic Cafe Garden leaped into the limelight few months back with the opening of their business at the vacated lot opposite of Hospital Pantai Putri Ipoh along the main road of Jalan Sultan Azlan Shah. The loose tie that they have with STG Tea House (in the form of a co-owner, and the same brand of Sabah Tea Garden tea leaves being retailed and served here) influenced my initial impression somehow, to which I had a talk with the very approachable lady owner of the place and discovered interesting insights on how she started Scenic Cafe Garden (let's call this SCG for short) with a few partners.
The interior of SCG exudes a rich aura of 'kampung' elements; e.g: wooden furnitures, rattan-woven ornaments, and a laid-back, easy-on-the-eyes palette combining earthy tones on a bright yellow and green background.
The exterior of the premise appears more like a traditional Malay restaurant  divided into 2 main sections; the main building with a beautiful porch by the side allowing opportunities for al fresco dining, and a few satellite 'pondok' for a more authentic experience (although I sure hope they incorporate some elements of pest-control to reduce mosquito bites).
What you may immediately notice is the clever use of colour-tinted windows around the premise that provides an extra burst of energy and creates a dreamy shade of colours in the day with sunlight streaming through the window panes.
Pomelo Salad (MYR 18 / USD 6) – A refreshing change from the boring Caesar's (which they do offer, apparently) or smoked duck (yes, this is being overdone now) salad 
A quick flip through the menu revealed typically predictable affair; from a few salads to two soups, entrees divided into Western selections including steaks, lamb, fish and chicken, and Asian dishes like Nasi Lemak, Nasi Goreng, Laksa, and even dishes (about 5 – 6 varieties now) to go with white rice.
But that's where the resemblance to stereotype cafes ends.
We started off by giving their Pomelo Salad a chance; with not much expectations but were really delighted to be served with a hefty portion of tossed pomelo flesh in her version of Thai dressing, imbued with a sharp, piquant flavour slicing through the sweetness of the citrus fruit and acidity of the pineapples, the juicy burst in every bite contrasting with the crispy texture of dried shrimps, and the addition of fresh cilantro kicking things up a notch.
I was expecting a more lazy salad with leafy greens and a mere handful of pomelo flesh scattered across the bowl. But boy, was I wrong. Two plump, de-shelled poached prawns sealed the deal for us. This should be one of the must-tries at Scenic Cafe Garden – embodying the essence of Ipoh's famous produce (the Tambun pomelo) in the process.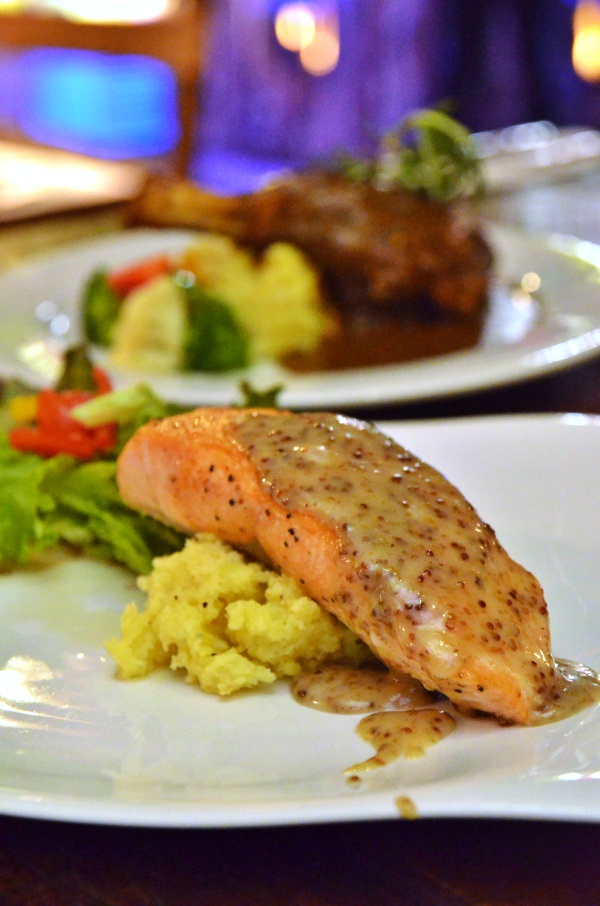 Grilled Salmon (MYR 34 / USD 11) – Char-grilled salmon fillet with mashed potatoes and grilled vegetables, served with your choice of butter cream, honey mustard or tomato salsa sauce
Balinese Nasi Campur (MYR 25 / USD 8) – Balinese style rice with fried chicken, curry squid, sweet tempe, black sauce prawns, vegetables and sambal
SCG employs 3 main chefs to helm the kitchen based on the individual's strengths; a Chinese chef with strong passion towards Western cuisine, a Malay chef whipping up traditional Malay dishes including Nasi Lemak, Nasi Kerabu with Ayam Percik, Nasi Goreng Kampung and various curries and dishes, as well as an Indonesian chef looking after items like Ayam Penyet (available as set lunch as well) and Balinese Nasi Campur.
The interesting clash of elements however, was not seen from the dishes we sampled; a clear case of separation in terms of each individual's expertise (or comfort zone) but could be an idea that SCG can toy with in the future.
The entrees were generally above average, the braised lamb shank was complemented by a rich brown sauce, served on a bed of buttery mashed potatoes and sides of grilled bell peppers, broccoli, cauliflower and carrots. However, the 'fall-off-the-bone' promise (in the menu) was a tad ambitious, as the firm texture indicated that the lamb shank certainly needed a couple of minutes more before being served.
The grilled salmon was flawless in its execution; retaining the succulent, flaky texture and naturally sweet taste of the fish, complemented by the subtly-concocted honey mustard sauce.
A test to the Indonesian chef's strength, we shared a plate of Balinese Nasi Campur. Steamed white rice served with a myriad of side dishes; including a piece of fried chicken that was somehow forgettable, two pieces of pan-grilled prawns in a sweet, dark sauce that accentuated the sweet flavours of the fresh crustaceans, squid rings in mild, dry curry, sweet tempe (fermented soy bean) that could be the highlight of the dish; sharing the throne with the luscious sambal (chili paste). However, do bear in mind that this is not an actual authentic representation of Balinese rice sets. You can find a really good version at The Uma in Kota Damansara if you happen to be in the Klang Valley.
Ending our feast with a cup of brewed Latte (MYR 8 / USD 2.70), or you can choose to sample their signature Sabah Tea (by pot, or individual servings), or even choose a drink from their wine list. SCG is a pork free restaurant with Halal-certified meat supplies but NOT a Halal establishment for your information.
Before we left the restaurant, we were offered to taste their homemade desserts; mostly by the creative lady owner (we actually knew her many years back; a family friend of Mum's). The Trifle (MYR 9 / USD 3) consisting of 3 layers, i.e.  cherry-flavoured jelly, buttery sponge cake wedged in the middle and diced peach at the bottom. The Coconut Jelly ( MYR 6 / USD 2) was a nice palate cleanser and a refreshing change from the usual Western-inspired desserts.
The private dining room can accommodate up to 20 pax; with no minimum spend required. As they are still working on expansion of the Asian rice and dishes menu, you can call them up for out-of-menu creations should you wish to hold a mini banquet or something.
The second private dining room can seat up to 30 pax, a mini art gallery with exhibitions from the collection of one Datin affiliated with the restaurant. Soon, they may execute their plans to involve local artists in displaying their works for sale here.
Just like STG Tea House, you can also purchase Sabah Tea from Scenic Cafe Garden, if you are a tea lover. A bit overdose now with continuous tea sessions in Cameron (what else do you do up in the Highlands anyway?)
Scenic Cafe Garden serves pork free cuisine, with Halal produce sourced from certified suppliers. However, they do serve liquor.
 A very inviting 'welcome' to the kampung house that is Scenic Cafe Garden. 
Currently, they do run promotions for set lunch, and also hi-tea in the late afternoons; about MYR 38 for 2, or MYR 58 for 4. Since the restaurant opens daily from 11.30 am to 10.30 pm without any break in between, this could be a wonderful spot for late lunches, or early dinners, or on those days when the weather's too excruciating to stay out (the Chinese New Year season comes to mind).
The meal came to MYR149.60 for 3 pax, a little pricey indeed but I guess you do get what you pay for. One mild gripe that I had was that they actually charge MYR 1 for every glass of filtered water (!). This can easily be done away with; since most restaurants in Ipoh and even in the bigger cities provide free flow of water for patrons, especially when one's having multiple courses and sipping on quality tea/coffee in between seems a little out of the question.
Overall, the dining experience was pleasant, and this has been marked as a place to return to whenever we run out of ideas on where to dine in Ipoh. I can't wait to sample the other Malay/Indonesian inspired items; as there are not many outlets in Ipoh that can proudly stake claims to serve excellent cuisines in that respect.
SCENIC CAFE GARDEN (pork free)
Lot 49364, Jalan Raja Di Hilir (Jalan Tambun)
30350 Ipoh, Perak, Malaysia
Tel No: +605-5488 116
E-mail: scenic.cafe.garden@gmail.com
Business Hours: Opens daily from 11.30 am – 10.30 pm.
Google Map to Scenic Cafe Garden